Fluorescent minerals
are minerals such as
Fluorite
that glow under black, UV light.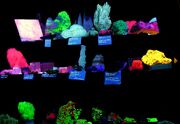 Albite
Anorthite
Apatite-(CaF)
Apophyllite-(KF)
Apophyllite-(KOH)
Aragonite
Axinite-(Mn)
Barite
Barylite
Bassanite
Bustamite
Cahnite
Calcite
Canavesite
Celestine
Cerussite
Chabazite
Charlesite
Chondrodite
Clinochrysotile
Clinohedrite
Corundum
Cuspidine
Datolite
Diopside
Dolomite
Dundasite
Dypingite
Epsomite
Esperite
Fluoborite
Fluorite
Genthelvite
Guerinite
Gypsum
Hardystonite
Hedyphane
Hemimorphite
Hexahydrite
Hodgkinsonite
Humite
Hydrotalcite
Hydrozincite
Johnbaumite
Junitoite
Magnesiohornblende
Margarite
Margarosanite
Marialite
Mcallisterite
Meionite
Meta-ankoleite
Metalodèvite
Microcline
Minehillite
Monohydrocalcite
Nasonite
Newberyite
Norbergite
Pargasite
Pectolite
Pharmacolite
Phlogopite
Picropharmacolite
Powellite
Prehnite
Quartz
Roeblingite
Samfowlerite
Scheelite
Smithsonite
Sphalerite
Spinel
Starkeyite
Strontianite
Talc
Thomsonite
Tilasite
Titanite
Tremolite
Turneaureite
Uranospinite
Uvite
Willemite
Wollastonite
Xonotlite
Zincite
Zircon
Znucalite
Note: work in progress.
References
Edit
"H Paul Garland." : Fluorescent Minerals. N.p., 24 Nov. 2010. Web. 03 Mar. 2013. <http://hpgarland.blogspot.com/2010/11/fluorescent-minerals.html>.
"Fluorescent Minerals of Franklin and Sterling Hill, N.J." Fluorescent Minerals of Franklin and Sterling Hill, New Jersey. N.p., n.d. Web. 03 Mar. 2013. <http://sterlinghillminingmuseum.org/aboutus/fluorescentminerals.php>.